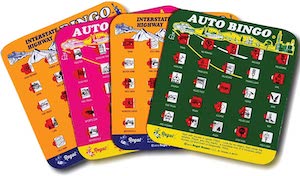 A road trip will be extra fun when you have this Auto Bingo Travel Game.
Now you can play a game of bingo with the people in your car or just by yourself.
The auto bingo card has all kind of things on it you have to find in the landscape around you and when you see it then you slide the pocket open and then when they are all open then you can call BINGO and win the game if you are first.
There are things on it like church, horse, motorcycle and much more and you need to find it around you while being on a road trip.