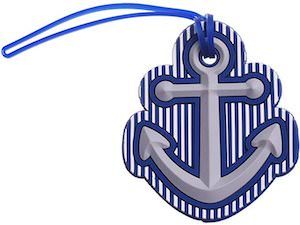 If you want a fun bag tag for your suitcase when you go on a cruise then how about an anchor luggage tag like this one.
The anchor luggage tag come in a set of 3 so that you can use it on many of your bags.
The front of the bag tag shows the anchor in front of a blue and white striped background and then on the back of the luggage tag it was an ID card pocket so that you can keep your info up to date.
Now you can have cool tag on your luggage so that they are easier to find and also prevent it from getting lost.