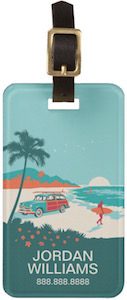 This luggage tag shows a classic summer scene with your can to the beach and then surfing with the waves, beach, palm tree and the sun all in the picture.
And then on the foreground you can have your name an phone number printed right on the luggage tag so that it never comes off.
You will find the same image on both the front and back of this luggage tag.
A bag tag like this is great for a suitcase but also for you work, school and sport bag as it makes it easy to spot and clear to who it belongs to.