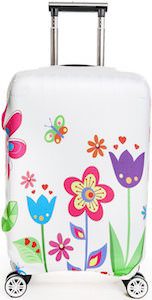 A suitcase cover is a great way to protect your suitcase from damage and intruders and it also makes it look so much more fun and easier to find in a pile of luggage at the airport.
This suitcase cover is white and shows in a cartoon style a field of flowers and some hearts and even a butterfly and all that just looks fresh and fun.
You can get this suitcase cover in many sizes to fit your luggage perfectly and the material is stretchy to fit snug around your suitcase. And while this is a cover you handles and wheels will still be ready to use.