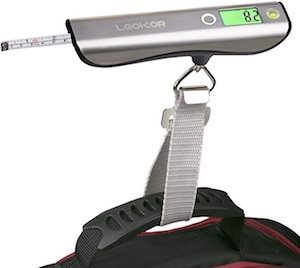 Now there is this Suitcase Scale With Measuring Tape that will make you travel less stressful as you now will know what your suitcase weighs and how it is.
This portable digital luggage scale is made to be part of your travel kit as it is compact and offers everything you need. The scale is digital and can tell you pounds of KG's and simply uses a small strong strap that goes around the handle of your bag and then you lift it to see the weight.
And if you wonder if your luggage is small enough to be carry on then you are in luck as there is a measuring tape build in the scale so that you can measure exactly what size it is.