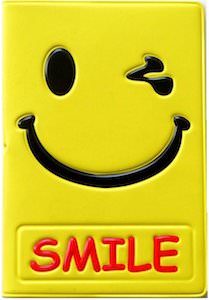 We all know that passports look kinda dull and boring on the outside and that is why this passport cover is just what you need.
This passport cover is bright yellow and has a winking smiley on it and below the face, it says "Smile" in red letters.
I am sure that passport control will look a bit confused when you give them your passport but that means that you may even get a smile from them when they look at it.
The smiley face passport cover is not only fun it also protects your passport and makes it easy to spot in a stack of your family's passports.