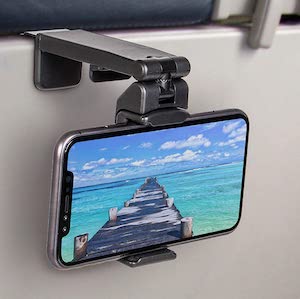 Now there is this Portable Travel Phone Holder that is handy to take where ever you go.
This phone holder folds flat so that it can easily fit in your pocket and then you use it on lots of things like you can connect it to the tray table of an airplane like in the picture but you can also use it free standing or connect it to a chair or where ever you go. If you click the picture to get a better idea of how it works.
And the phone holder has a spring in it to keep your phone secure in place and it can hold lots of different size phones making this things really useful to own.