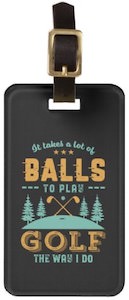 Now there is this Play Golf Luggage Tag that is great fun for on your golf bag or your suitcase.
The front of the luggage tag is black and shows a golf course with trees and clubs and also the text "It takes lot of balls to play golf the way I do".
The back of the luggage tag can have the normal ID card pocket where you can write your info on but you can also choose to have your initials printed on the back which make the bag tag just perfect for a golf bag so that people know it is yours.