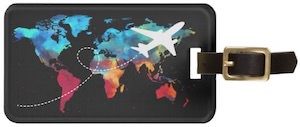 Now you can get this great looking Plane Flying The World Luggage Tag.
This luggage tag is black on the front with a world map on it and different temperate for colors and then on top of it you can see a plane flying.
On the front you can also have you initials if you like. On the back you can choose for having your info printed on the bag tag or you can pick one with a ID card slot so that you can easily can keep changing your info.
So if you like traveling the world and planes and need a bag tag then come check out this luggage tag.