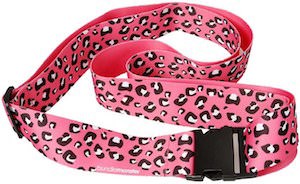 If you want to make it easy to spot your suitcase at the airport then a luggage strap is perfect and this strap will stand out as it is pink and has a leopard print design.
So if you like animal prints and pink then this would be the perfect luggage strap for you.
The strap is easily adjusted to a size between 40 and 81 inch.
If one suitcase is not enough for you then you are in luck as this luggage strap comes in a pack of two.
Besides being great looking these luggage straps are also great keeping your suitcase closed so that you don't accidentally loose some of your belongings.