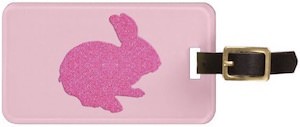 If you like pink and bunnies and of course traveling then this bag tag is just what you need.
The luggage tag is pink and shows on the front a silhouette of a pink bunny that seems to sparkle. On the back this pink luggage tag shows your info printed on the card so that it is always there secure and visible. And you decide what personalized message you want there. Could be your address or maybe just you phone number or email address, it's up to you.
A bag tag like this is also great for Easter as it shows a bunny and a fun color.