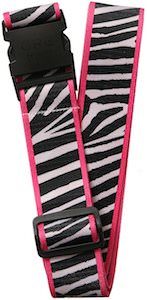 This luggage strap by Orb Travel will make your suitcase look way more fun and so much easier to spot.
The luggage strap has a pink edge and in the middle of the edge, you will find a black and white animal print. Maybe it is zebra but it could be a different animal too.
The luggage strap is 70 inches long and can be easily adjusted to bit snug around your luggage and the black clip is strong and will not easily open without you doing it.
A luggage strap like this will make it easier for you to find your luggage and it will make it more you thanks to the cool design you like.