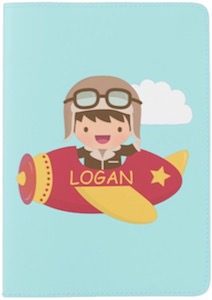 Now there is this personalized cute airplane passport cover.
The passport cover shows the sky on the front with a little fluffy cloud in the background and then there is a cute little plane with a boy in it and on the plane it will have your kids or maybe your name on it so that you always know who's passport is inside it.
On the back of the passport cover it shows a pilots badge in the same colors as the plane.
Not only does this passport cover look cute it also protects your passport from harm as it is sturdy and water resistant.