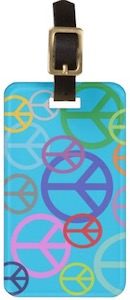 We live in a world that does not seem to be understanding for things that are different than what they believe and that is something we should all try to change so that there can be peace.
This luggage tag is covered on the front in peace signs and when you hang it on your suitcase, backpack, or sports bag you may make people think about their actions and become nicer to others.
Besides trying to bring peace the luggage tag is also great at preventing your bag from getting lost.
You can choose for the option of getting your information printed on the back or to have the option to have a card with your info on the back that you can change when you travel.