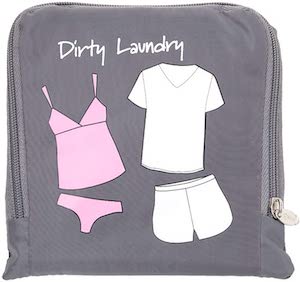 We all need this Travel Dirty Laundry Bag for out next trips.
If you travel and stay away for a couple days then you know that keeping your clean and dirty laundry separate but now you can get a special bag for your dirty laundry.
This laundry bag is a nice small bag when you are not using it and even has some men and women's underwear on it with the text "Dirty Laundry" on top of it.
But when you open the laundry bag then you get a nice big drawstring bag with lots of space for a lot of dirty clothes. This is just the perfect bag for keeping your dirty clothes separate.