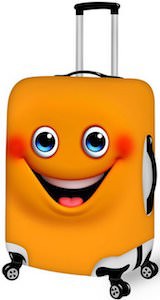 This suitcase cover not only protect your suitcase from harm and from people looking inside it also is super cute.
The suitcase cover is orange and has a giant smiling face on it with really happy eyes.
Just imagine seeing such a friendly suitcase coming down the luggage belt at the airport it surely will make you smile.
The suitcase cover is available in many sizes so that it fits you suitcase like a glove and while doing that it will keep all the handles and wheels accessible.
The cover is made from 85% polyester and 15% spandex making it really strong and stretchy so that it's easy to put onto your suitcase.