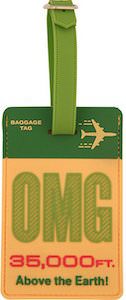 This luggage tag tells you how it is when you go flying in a plane.
On the front of the baggage tag, it says "OMG 35,000FT. Above the Earth!" and that is the height most planes will fly when they are cruising to their destination.
Besides the front, there is the back of course which has the same yellow color but with room for your ID card so that airlines will know where to bring your suitcase just in case it gets lost.
So get your luggage tagged up with this luggage tag that knows how high it will go and by having this special bag tag it will also be easier to see your luggage coming down the belt.