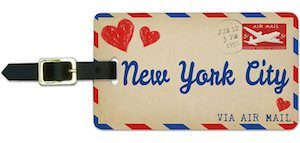 If you like New York and need a cool luggage tag then you have to check out this New York City air mail luggage tag.
The luggage tag looks like a classic air mail envelopes and on it, you can see a stamp and some red hearts and the text in blue that says "New York City".
Besides the cool side, there is a back side of this luggage tag that has a card for writing your info on or to place your business card.
So now you can show the world that you like New York by adding this luggage tag to your suitcase.