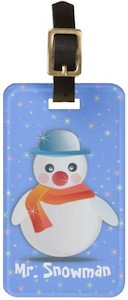 If winter is your favorite time of year then you may enjoy this snowman luggage tag.
On the front of this luggage tag you can see a red nosed snowman with a nice fancy hat and scarf and below it there is room for your name right in the spot where it says "Mr. Snowman" but if you want you can also just leave it like this .
The back of the luggage tag has the same purple background as the front but here you can have your information printed right on the luggage tag so that this tag will be yours forever.
Come take a closer look at this Mr. Snowman Luggage Tag.