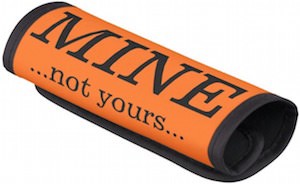 Is the handle of your suitcase not real comfortable to hold?
This handle wrap can solve that.
Made from strong and soft neoprene carrying a suitcase or bag will be so much easier. Just place it around the handle and the velcro will keep it all in place.
This handle wrap is orange and says "Mine …Not Yours…" and just with this simple message people will know it's not theirs and it also makes it a lot easier for you to find your luggage.
So a handle wrap like this makes it easy to spot your luggage and much easier to carry it.