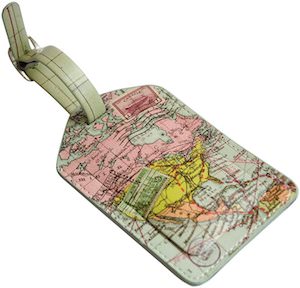 Luggage tag are great for when you luggage gets lots because now the finder know to who that bag belongs. But luggage tags are also great to find you bag quickly between all those suitcases that look the same.
This luggage tag has a map design on it and even some stamps from the countries on the map.
The luggage tag is made from faux leather so that it will stay nice and becomes easy to clean. Just open the flap to see you address and with a tag like this you can keep changing the paper inside to show the right address all the time.