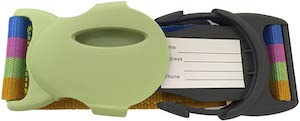 Now there is this Luggage Strap With ID Tag that is just perfect for around your suitcase.
This luggage strap is striped an there are different colors available an then the lock also has an ID card so that you can have your information on it so that you don't have to loose your luggage again.
The luggage strap is 2 inches wide and up to 72 inches long and is adjustable in length so that it will fit snug around you suitcase.
And a cool strap also make it a lot easier to spot your luggage on the baggage carousel at the airport.