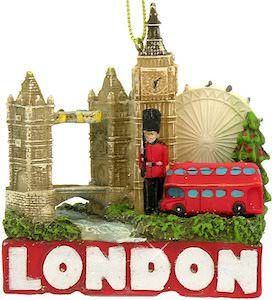 This Christmas will be so much more special all thanks to this London Tourist Attractions Christmas Ornament in your Christmas tree.
If you like to travel a lot and have a Christmas tree that is more personal then an ornament for all the places you visited would be a fun things to have.
This Christmas ornament is all about London England with the word "London" on the bottom and on top of that you can see the Tower Bridge, Big Ben, Double Decker Buss, and even a guard from Buckingham Palace.
So now you can have London in the Christmas tree and with that the memories can come back from your adventures in this British city.