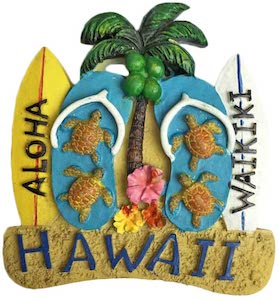 Now there is this Hawaii Fridge Magnet that you can get even without going to Hawaii.
No matter if you forgot to get a magnet when you where there or if you wanted to get some for friends or never got the opportunity to go this magnet is what you need.
This fun fridge magnet shows the word Hawaii on the bottom with above it a palm tree and flowers and there are flip flops and turtles and even some surf boards that say "Aloha" and "Waikiki" on it.
So it is the perfect Hawaii magnet that does not make you travel all the way to the tropical islands.