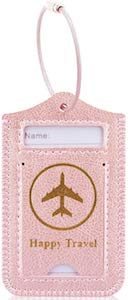 If you want to have a nice luggage tag then come check out this Happy Travel luggage tag as it is perfect for on your bags.
The happy travel luggage tag comes in a set of two and comes in many colors (click on the picture to see them all).
The luggage tag is made from PU leather so it looks like leather but it is not. The bag tag has a pocket for your ID card with your name visible at all time but the rest of the information is behind a flap that has a plane on it and the text "Happy Travel".
The tag has a metal chain so that it will be secure to your luggage at all time.