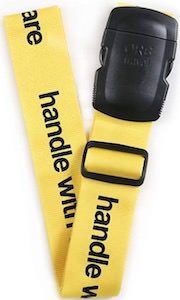 Now you can have an great looking handle with care luggage strap.
The luggage strap is made by ORB travel and is yellow and on the yellow strap it says "handle with care" so that baggage handlers know that they should be careful with your suitcase.
The handle with care luggage strap 2 inches wide and up to 70 inches long but is adjustable in size so that it will be fitting perfectly around your luggage.
A nice bright yellow luggage strap like this also makes it really easy to spot you suitcase on a luggage belt at an airport.