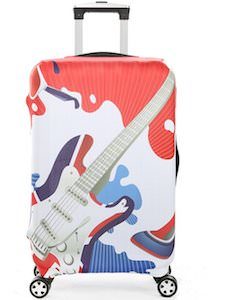 If you like music and traveling then this guitar suitcase cover could be just what you need.
The suitcase cover fits snug around the suitcase while still keeping space for handles and wheels. The suitcase cover is made to protect your luggage from damage and makes it a little bit more difficult to get into it preventing quick thefts from your suitcase.
The suitcase cover is made for people that like guitars as it shows a nice guitar on it and a bunch of fun red, white and blue shapes.
You can get the guitar suitcase cover in 3 sizes so that almost any suitcase can get this musical cover.