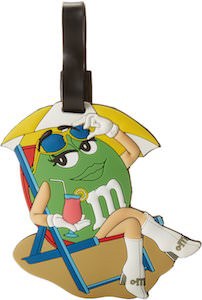 M&M candies love to go on holidays to they just have to stay in the shade otherwise they will melt.
And now there is this M&M luggage tag with a green M&M on it in a beach chair with a nice cocktail.
This luggage tag is black on the back and has room to write you info on it.
And besides for you suitcase this luggage tag is great for a backpack or sport bag to so that you always know that the M&M bag is yours.
Make this green M&M happy by getting her to travel with you.