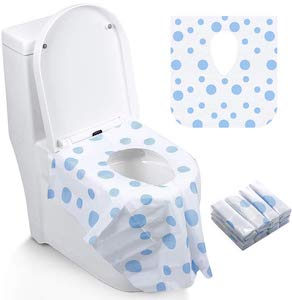 When having to use a public toilet you always wonder who was here before you and luckily there now are these Giant Toilet Seat Covers.
Public toilets are not know for being really clean and and airplane toilet is not great either and sure there are those tiny paper toilet seat covers or just use toilet paper maybe not be the barrier you wanted.
These covers are made from plastic and cover a lot more of the toilet than just the toilet seat and that makes it great for kids too.
And there are 18 toilet seat covers in this set and all are separately wrapped so that you can always one with you and just make sure you put them in the trash after you use them as they can't be flushed.