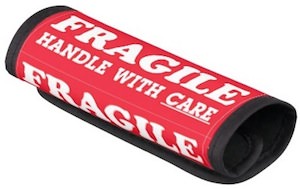 We all know how our bags are treated when they are out of sight but if you do have something in there that need some tender care them maybe this handle wrap can help.
Just stick it on the handle of your suitcase and anyone can see your request.
The handle wrap is red and in white letters it says "Fragile handle with care". Any one touching the handle would see the message and that could lead to less throwing of you bags.
Beside being a great way to tell people to be gentle with your bags it is also a great way to easily spot you bags on the baggage belt at the airport.