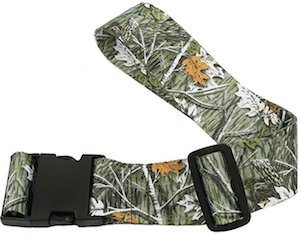 if you like the forest, camouflage, and traveling then you have to check out this forest camouflage luggage strap.
The luggage strap is covered in a camouflage-like look but if you look closely you can see trees and leaves on it and that brings the forest to you.
The forest luggage strap will look stunning on your suitcase and will make it unique and that makes it so much easier to find your luggage.
The luggage strap is 2 inches wide and 68 inches long and can be adjusted in length so that it fits tight around your luggage and the black buckle will keep it all together.