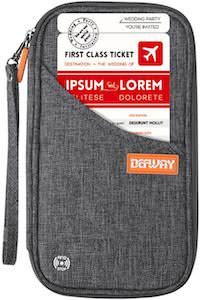 If you travel with you family then you know how difficult it is to keep organized and that is why you need this family size travel wallet.
The travel wallet comes in a bunch of colors and has a pocket for tickets and papers on the outside but on the inside there you find way more spots for holding things.
The travel wallet can hold a pen, 4 passports, 5 credit cards, cash, coins, and keys. And this travel wallet also blocks RFID so nobody is stealing your information and it is also water repellent and available in many colors.
Even when not traveling this wallet is perfect for keep things together so that you only have to look in one spot for all your travel needs.