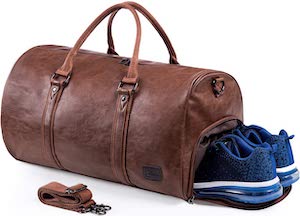 If you are looking for a handy bag for a quick short trip then you want to check out this Fake Leather Travel Duffle Bag With Shoe Pouch.
This duffle bag looks amazing as it looks like real leather but they are all made from PU leather and they come in brown and black.
As you can see the duffle bag has it own separate shoe pouch so that it will prevent dirt from your shoes ending up with your clothes. On the other side there is a small zipper pocket that can hold things like your phone or some papers and inside there are more small pockets for things like your phone charger and stuff and there is a big space too for you clothes and stuff.
This bag is made fort travel, a weekend trip or a one day trip this is the bag you want.