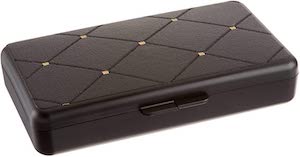 If you travel around then you know how annoying it is when you can't find a face mask and that is why you need this Face Mask Travel Case.
Now you can have this case at home, in the car, in your bag so that you always have a clean mask ready for use.
There is room enough for up to 15 disposable or 5 cloth masks so you can always have a clean mask ready to use.
And when the pandemic is over and we don't need to wear masks anymore then you can use this a storage box for so many other things.