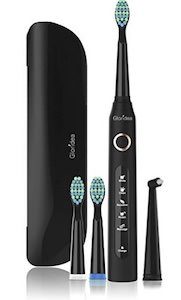 If you are a frequent traveler then you may not like to pack your toothbrush all the time and that is why you should be thinking about this Electric Travel Toothbrush.
This electric toothbrush comes with a nice case that can hold your brush secure so that you can keep it in your luggage.
And this toothbrush will run for 30 days on a 4 hour charge so that you don't really have to bring the charging cable for short trips.
The toothbrush comes with 4 heads and has all kinds of functions and timers so that you always know when your brushing is done.
stop taking your home toothbrush on a trip because now this brush can just be in your suitcase ready to go.