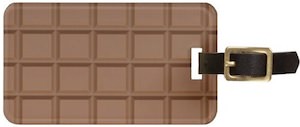 Luggage tags are often boring and just a pain.
But this luggage tag looks like a chocolate bar and everyone loves those.
And this is not just one of those luggage tags that you write all your information on. Nope this one has all your information printed on the tag so that it never accidentally looses your info and that makes it so much easier to have.
A suitcase, laptop bag or even a school bag all could use a luggage tag like this.
The luggage tag is made from acrylic and comes with a leather strap and will last you a life time.