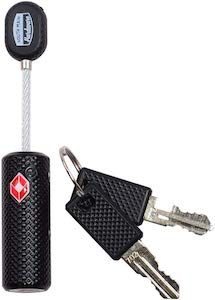 If you want to lock your bags then check out this Cable Barrel Lock.
The barrel lock is just a small barrel with a metal chain and it is easy to use as most suitcases or bag with zippers have a round hole in the ends or on the zipper itself and the metal chain goes through that making the look not to obvious but still really strong as it is using your bag or suitcase to lock it all up.
The cable barrel lock comes in black and neon green and comes with two keys. And as any good travel lock this lock is TSA approved so that they can open it if they need to get into your bag.