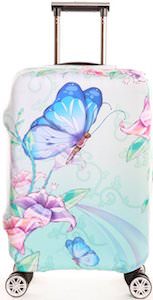 This suitcase cover will protect your suitcase from harm and make it look a lot easier to spot on a luggage belt as it has butterflies and flowers on them.
The cover is available in many sizes so that it will fit you luggage perfectly and the cover it self stretches to fit snugly around you suitcase without interfering with wheels and handles.
Of course the cover will make it more time consuming to get to your belongings and that of course is the perfect way to scare of thieves that quickly like to steal from your suitcase.