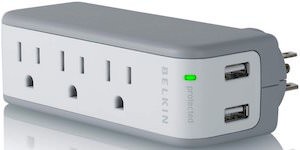 We all know the problem you are on a trip and in your hotel room it's hard enough to find one empty power socket but your need more.
But now you can have the solution thanks to this Belkin power charger that offers 3 power ports and 2 USB ports by simply plugging it in. And the travel charger swivels so that you can easily adjust it to the situation.
And because you can not always trust you power source they even build in a surge protector so that you are protected from spikes in power.
Any one traveling a lot with electronics just needs to have this charger in their bag as it will make life so much easier.