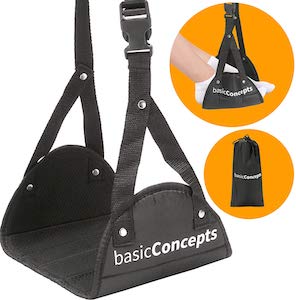 If you are not to comfortable in a plane as your legs are to short then you want to check out this Airplane Footrest Hammock.
This is a forest that is like a hammock for your feet or legs and the base has memory foam to be super comfortable.
Just move the strap around your tray table and adjust the length to fit perfectly for you and now long flights will be so much better and you will feel a lot better when arriving at your destination.
And the footrest comes with a carry case to easily fit in your hand luggage.
When you can get home you can still use the feet hammock under yours desk to make working at your desk at home or the office way more comfortable.