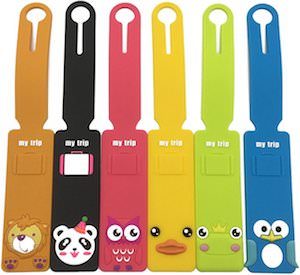 If you like a fun luggage tag for your next trip then start looking at this because it is not one but 6 cute animal luggage tags.
Each luggage tag in the set is a different color and has a different animal on it. There is a tag with a lion, panda, owl, duck, frog, and penguin and on the back it has room to write you information.
So now you have enough bag tags for all your suitcase and maybe you should think about putting one on your backpack for work and maybe your sports bag so that you never have to loose any bag while having a fun animal hanging on it.