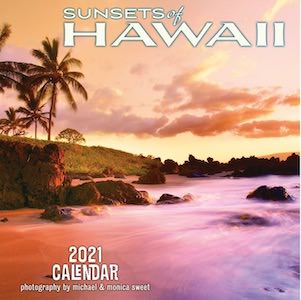 We may not be able to fly to Hawaii but at least you can look at this 2021 Sunsets Of Hawaii Wall Calendar to bring back memories to the beach and more.
Sunsets are amazing especially when the scenery is just stunning and Hawaii has all those.
You can see some amazing images off Hawaii at this calendar and it will bring you a new picture every month of 2021 and besides amazing photo's there is a great calendar too with lots of space to write you notes on and even all the big holidays are already filled out so that you will never have to wonder when Mothers day is as you can find it on the calendar.